Carols, jokes, and the Dickensian Christmas
Caroline M, publisher of our Cambridge Library Collection, unwraps some of our Christmas titles, and puts Charles Dickens in his place.
A Christmas Carol – Charles Dickens
The most famous 'Christmas book' ever written must be Charles Dickens's 'A Christmas Carol'.
Written amazingly quickly in October 1843 and published on 19 December, with four colour illustrations by John Leech, it was enormously successful in terms of numbers of sales, though the costs of production (especially of the hand-coloured plates) were such that Dickens did not in fact make much money from it.
However, the little book struck a national chord with its idea of Christmas as a time of universal benevolence, and many people believe (wrongly, as I shall argue below!) that Dickens 'invented' Christmas in Britain.
The Cambridge Library Collection reissued the first edition of A Christmas Carol in December 2012, as part of our new Fiction and Poetry series.
We used for the cover John Leech's haunting image of Marley's rigid, shackle-bound ghost appearing at Scrooge's meagre fireside. I had never noticed before that not only is Scrooge's nightcap standing on end in terror, but the very candle flame has an expression of surprise and apprehension on its face.
Cambridge University Press has a long tradition of publishing 'Christmas books'. In most years between 1930 and 1974, some customers, authors and other friends of the Press were sent a beautifully designed, typeset and printed little book, on a topic such as 'The waterways of the Fens' or 'Aristology, or, the art of dining'. This was an opportunity for the Press to display its skills as a fine printer, and the books have since become collectors' items. The final book, in 1974, was a bibliography by Brooke Crutchley, the University Printer, of all the preceding books. Sadly, on Crutchley's retirement, the tradition ceased.
Christmas best-sellers
We at the Cambridge Library Collection have (so far!) produced three books with Christmas in mind.
We started almost by accident in 2009, when we were recommended the works of the Shakespeare scholar and antiquarian James Orchard Halliwell-Phillipps.
He had published 'Jokes of the Cambridge Coffee-Houses in the Seventeenth Century' in 1842, while serving as Librarian of Jesus College. The jokes were mostly puns – excruciating when they weren't baffling – but the book was simply too short to reissue by itself.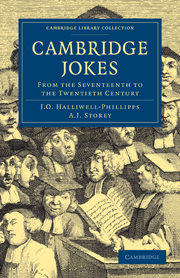 However, while looking for something else altogether in the closed stacks of the University Library (such happenstance being one of the joys of our job), we came across 'The Fresher's Don't', in its sixteenth edition of Michaelmas Term, 1913.
This estimable guide to student etiquette – 'To the Freshers at Cambridge, the Remarks and Hints are addressed with all courtesy by A Sympathiser (B.A.)' – was probably written originally by A.J. Storey, and it was published ('Price 6d') by Redin & Co. of Trinity Street, Cambridge, whose 'College Arms Playing Cards' are among the items featured in advertisements at the beginning and end of the pamphlet.
We put this together with the jokes of the coffee-houses, added an appropriate (in sentiment, though not in period) Hogarth print to the front, and – to our complete astonishment – created a best-seller of 'Cambridge Jokes' (2009).
The Cambridge University Press Bookshop featured it as a sort of 'stocking-filler' at Christmas 2009, and it hasn't looked back since. We are not clear whether undergraduates are buying it for their parents or vice versa, nor whether anyone has read it from cover to cover. (Sample joke: 'Gurnet being asked why in St Mary's he prayed for the mayor and aldermen [of Cambridge], who were so notorious for wickedness, said, "Because we are commanded to pray for our enemies".')
In fact, I find the second half of the book very moving.
The jokes, and even the advertisements for playing cards, tennis racquets and 'all your smoking needs', conjure up a world which was to vanish for ever in the Long Vacation of 1914, along with so many of the freshmen who were being advised, 'Don't show contempt for the Deans. They are a well-meaning class, and very powerful', or 'Don't attend Divine Service at the Pitt Press. The music is not good.' (The Press's Pit Building, then as now, was quite often mistaken for one of Cambridge's many churches.)
We sat on our laurels for a bit after this success, but Dickens in Dickens's bicentenary year obviously had to be done. For 2013, we are reissuing another happenstance find, and part of my argument that Dickens didn't invent Christmas (with or without the help of Prince Albert and his German Christmas tree). Davies Gilbert (Davies Giddy before he changed his name to inherit a fortune) was a Cornishman, born in 1767.
A mathematician by training, his skills were in what would now be called applied maths – he worked, for example, on problems of efficiency in the workings of early steam engines. An M.P. for Cornish constituencies and a notable public administrator, he became the third President of the Royal Society in 1827, after the retirement through ill health of his Cornish protégé, Sir Humphry Davy.
So far, not very Christmassy.
Ancient Christmas Carols

But one of Gilbert's great interests was the traditional music of his native county, and in 1822 he published 'Some Ancient Christmas Carols, with the Tunes to Which They Were Formerly Sung in the West of England'.
This is a small book, only 62 pages in total. It contains eight carols, some of which are familiar by their words ('Whilst shepherds watched their flocks by night') or themes ('When righteous Joseph wedded was' has a similar 'plot' to the Cherry Tree Carol). But most of the tunes, which Gilbert provides in two- or three-part harmony, are unfamiliar, 'A virgin most pure' being the exception. And many of them are very long: 'Let all that are to mirth inclined' has 16 verses and a chorus.
With this publication, Gilbert can be claimed as an early pioneer of the 'folksong movement' – collectors, led by Cecil Sharp, Percy Grainger and Ralph Vaughan Williams among others, who sought out the (usually very old) country people who were the last repository of the oral folk traditions of Britain. But in his preface Gilbert also describes a country Christmas at the end of the eighteenth century. On Christmas Eve, about 8 o'clock, 'cakes were drawn hot from the oven; cyder and beer exhilarated the spirits in every house; and the singing of carols was continued late into the night'.
On Christmas Day, the carols were sung in church in place of the psalms, and on subsequent days traditional games, including a mumming play of St George and the Turk, were played by the whole community. (He also notes that much more material about Christmas celebrations can be found in John Brand's 'Observations on Popular Antiquities', which we reissued in 2011.)
Dickens' Christmas Revival
It is this spirit of community and neighbourliness (echoed later by Thomas Hardy's recollections of a Dorset Christmas) that Dickens was trying to revive with his masterpiece, and he was drawing on existing traditions – the food, the games, the carol singing – rather than creating something new. So why not try out some new carols/tunes this year with your own friends and neighbours?
Dickens must of course have the last word: 'God bless us, every one!'
Enjoyed reading this article? Share it today:
Find more articles like this:
Find more articles like this: