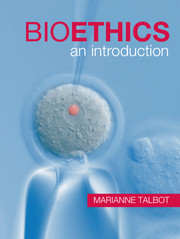 Author: Marianne Talbot
Marianne Talbot is the author of Bioethics (2012). She has been Director of Studies in Philosophy at Oxford University's Department for Continuing Education since 2001, where she is responsible for the university's lifelong learning in philosophy. Talbot pioneered Oxford's popular online short courses and has more recently specialised in teaching ethics to scientists. She teaches ethics for doctoral training centres in Oxford and in London and has trained the EPSCR itself in ethics.
Posts by: Marianne Talbot
Find a subject
View all posts from
our subject areas
Looking for more?
View all posts from
our subject areas
View by month
View all posts from previous
months in our archive.
Be Social with us
Keep up with the latest from Cambridge University Press on our social media accounts.