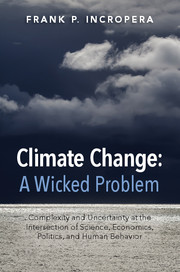 Author: Frank Incropera
Frank Incropera is author of Climate Change: A Wicked Problem (2015). He is Clifford and Evelyn Brosey Professor of Mechanical Engineering at the University of Notre Dame, where he also served as Dean of Engineering from 1998 until 2006. He spent a majority of his career at Purdue University, becoming a professor in 1973 and Head of the School of Mechanical Engineering from 1989 to 1998. Among his many honors, Professor Incropera has received the American Society of Engineering Education (ASEE) Ralph Coats Roe Award for excellence in teaching (1982), the ASEE George Westinghouse Award for contributions to education (1983), the American Society of Mechanical Engineers (ASME) Heat Transfer Memorial Award (1988), the Melville Medal for the best original paper published by ASME (1988), and the Worcester Reed Warner Medal of ASME (1995). He received the Senior Scientist Award from the Alexander von Humboldt Foundation of the Federal Republic of Germany in 1988, and in 1996 was elected to the U.S. National Academy of Engineering. In 2001 he was named by the Institute for Scientific Information as one of the 100 most frequently cited engineering researchers in the world. He is a Fellow of ASME and the American Association for the Advancement of Science (AAAS). Professor Incropera has had a long-standing interest in heat and mass transfer. He has authored or coauthored numerous books on the subject, including Fundamentals of Heat and Mass Transfer, which has become the premier textbook in the field. He has also authored more than 200 journal articles. His work has addressed numerous fundamental issues, as well as applications dealing with energy conversion, biomedical engineering, electronics cooling, and material processing. In the past ten years, his interests have turned to the broad range of technical and nontechnical issues associated with transition to a sustainable energy future. As well as academic research, he has worked extensively with members of the energy industry and business community.
Posts by: Frank Incropera
Find a subject
View all posts from
our subject areas
Looking for more?
View all posts from
our subject areas
View by month
View all posts from previous
months in our archive.
Be Social with us
Keep up with the latest from Cambridge University Press on our social media accounts.