Shakespeare Around the World
You can spend Shakespeare's birthday in his hometown of Stratford-upon-Avon, where there will be celebration aplenty, or you can take off to one of these more exotic locations he immortalized in his works.
If you can't make the Bard's famous birthday celebration at Stratford-upon-Avon this year, maybe you can take off to one of these other exotic locations and toast the Bard there.
Denmark
Hamlet was set in the fictional town of Elsinore, but it is believed that Shakespeare based Hamlet's castle on Kronborg Castle.
Scotland
Macbeth was inspired by the Inverness Castle in Scotland.
Italy
Verona uses "perfect for star-crossed lovers" as their tourist tagline, and thousands flock to the home of Romeo and Juliet every year. Visitors leave love notes in the doors and walls of Juliet's "home."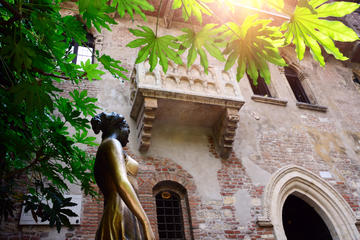 Greece
While there is not much to commemorate A Midsummer Night's Dream in Athens, Greece, the beautiful woods definitely look very easy to fall in love in.
Throughout 2016 we are marking the 400th anniversary of the death of William Shakespeare by following key themes, controversies and research relating to the life and legacy of the man himself.
This month we're celebrating Shakespeare's legacy and each day running from 1st to 23rd April we will be giving away a different prize for FREE from Cambridge University Press's fantastic range of Shakespeare books!
To enter our prize draw simply fill in your details on the form below to be in with a chance of winning! www.cambridge.org/shakespearewin
As we celebrate Shakespeare's legacy throughout April we really want to know what Shakespeare means to you, and why his work still matters 400 years after his death. Join the conversation by commenting here on our blog or tweet us using @CambShakespeare – we'd love to know your thoughts!
– See more at: http://www.cambridgeblog.org/2016/04/much-ado-about-winning/#sthash.qXWIUJWj.dpuf
– See more at: http://www.cambridgeblog.org/2016/04/puzzle-put-cover-of-ncs-romeo-and-juliet-title-together/#sthash.ErbwX448.dpuf
www.cambridge.org/shakespearewin
– See more at: http://www.cambridgeblog.org/2016/04/king-richard-iii-has-come-undone/#sthash.pJ4RpUDw.dpuf
Enjoyed reading this article? Share it today:
Find more articles like this:
Find more articles like this: