Hamlet as a Lion Cub, Duke Orsino as a Guitar-Toting Roustabout–Shakespearean Stories Updated for the Modern Audience
Shakespeare's stories and characters have time and again been reimagined for modern audiences. Sometimes the inspiration is obvious, while others require a bit of thinking.
Do you think that Shakespeare would be amused or horrified at the following modern adaptations?
Romeo and Juliet
West Side Story takes a balcony and makes it a New York City fire escape with the classic Broadway musical of star crossed lovers and opposing gangs.
The Nurse is now the fiery Anita, the Apothecary is now a sympathetic candy store owner, and some might argue the story is even more tragic, with only one of the lovers dying at the end, leaving the other alone.
An interesting tidbit, when the 1968 film adaptation of Romeo and Juliet was released, it included the theme song "A Time For Us" which clearly had a salute to West Side Story's "Somewhere".  In "Somewhere", the lovers sing,"There's a time for us, some day a time for us" while with "A Time For Us", the words are "A time for us, someday there'll be."  Things came full circle!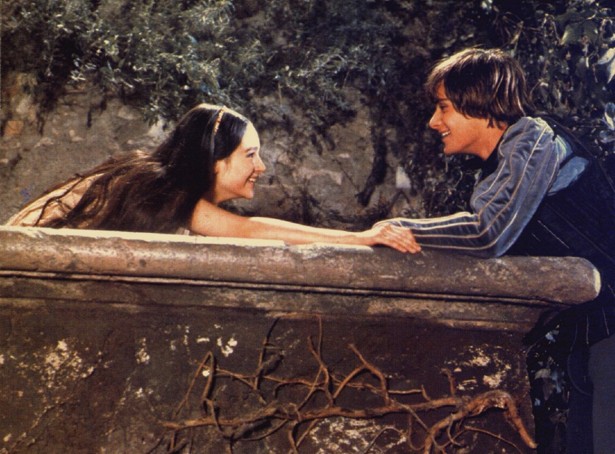 Hamlet
Hamlet becomes a cuddly baby lion with Disney's The Lion King. An evil uncle kills the young prince's father, the ghost of the father becomes an important character, and the prince has a posse of odd and amusing friends. (Rosencrantz and Guildenstern/Timon and Pumba) The ending of The Lion King is (just slightly happier) than its inspiration.
 Twelfth Night
Twelfth Night is an easy story to adapt. A cross-dressing comedy of errors, the story of Sebastian and Viola has had many incarnations.
With the Broadway "juke box" musical All Shook Up, Duke Orsino, played by Cheyenne Jackson in his star-turning role, became a guitar-toting roustabout singing Elvis Presley songs while Viola masquerades as a mechanic named Ed. With the teen flick  She's the Man, Amanda Bynes plays Viola Hastings, who pretends to be a boy in order to play on the school soccer game. (Channing Tatum plays the soccer star love interest in that one, and his name actually remains Duke Orsino. Remember what we said about some of the adaptations being very obvious?)
The Taming of the Shrew
If you say Ten Things I Hate About You, it does really sound like Taming of the Shrew.  Whereas in Shakespeare's original, Katherina's younger sister, Bianca, is not allowed to marry until her older sister is married off herself. In the updated version, Bianca is not allowed to date until her older sister finds a boyfriend. While it is not exactly a sonnet, the movie includes Kat reading a poem for the bad boy paid by her sister to seduce her. The poem paraphrases Sonnet 141–we think Will Shakespeare would have gotten a kick out of it. (This movie has bonus points for sentimentality for featuring the late Heath Ledger at only 19-years-old.)
I hate the way you talk to me, and the way you cut your hair

I hate the way you drive my car,
I hate it when you stare.
I hate your big dumb combat boots, and the way you read my mind.
I hate you so much it makes me sick, it even makes my rhyme.
I hate the way you're always right, I hate it when you lie,
I hate it when you make me laugh, even worse when you make me cry.
I hate it when you're not around and the fact that you didn't call
but mostly I hate the way I don't hate you, not even close, not even a little bit, not even at all.
Throughout 2016 we are marking the 400th anniversary of the death of William Shakespeare by following key themes, controversies and research relating to the life and legacy of the man himself.
This month we're celebrating Shakespeare's legacy and each day running from 1st to 23rd April we will be giving away a different prize for FREE from Cambridge University Press's fantastic range of Shakespeare books!
To enter our prize draw simply fill in your details on the form below to be in with a chance of winning! www.cambridge.org/shakespearewin
As we celebrate Shakespeare's legacy throughout April we really want to know what Shakespeare means to you, and why his work still matters 400 years after his death. Join the conversation by commenting here on our blog or tweet us using @CambShakespeare – we'd love to know your thoughts!
– See more at: http://www.cambridgeblog.org/2016/04/much-ado-about-winning/#sthash.qXWIUJWj.dpuf
– See more at: http://www.cambridgeblog.org/2016/04/puzzle-put-cover-of-ncs-romeo-and-juliet-title-together/#sthash.ErbwX448.dpuf
www.cambridge.org/shakespearewin
– See more at: http://www.cambridgeblog.org/2016/04/king-richard-iii-has-come-undone/#sthash.pJ4RpUDw.dpuf
– See more at: http://www.cambridgeblog.org/2016/04/shakespeare-around-the-world/#sthash.mjNxlzgV.dpuf
– See more at: http://www.cambridgeblog.org/2016/04/eat-like-shakespeare/#sthash.RtfvPUTi.dpuf
Enjoyed reading this article? Share it today:
Find more articles like this:
Find more articles like this: