A new Cambridge Introduction to Music charts the evolution and rise of Electronic Music - and so we have put together a Spotify playlist of some of the key tracks.
I'm a big fan of electronic music, so when I saw that we were adding Electronic Music to our Cambridge Introductions to Music series, I knew I'd have to pick up a copy.
The book, by authors Nick Collins, Margaret Schedel and Scott Wilson, charts the history of this evolving genre and means of music-making from its humble origins. Covering the advances in technology, and roles that acts such as Gary Numan, Depeche Mode, Kraftwerk, Björk, and the Eurythmics played in not only bringing this new sound to radio but to a mainstream commercial audience. The authors explore its presence in soundtracks (Vangelis, Jean Michel Jarre anyone?), through its romances with Eurovision, opera, and rap, and into its role in computer games and the mobile phone app.
If you're someone who enjoys electronic music, or the seemingly everlasting circuit of 80's discos and themed parties, then you're going to love our Spotify playlist below. It features a selection of the key tracks discussed by the authors in the book.
Which track is your favourite? Do you think we've missed out an influential electronic music track? Let us know in the comments below.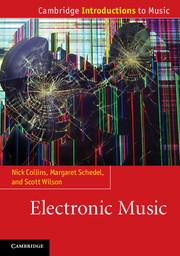 Electronic Music is out now.
Nick Collins is a lecturer at the University of Sussex. A composer, performer and researcher in the field of computer music, his research interests include machine listening, interactive and generative music, and computational musicology.
Margaret Schedel is an Assistant Professor of Music at Stony Brook University. A composer and cellist specialising in the creation and performance of 'ferociously interactive media', she sits on the boards of 60×6, the BEAM Foundation, the ICMA, and Organised Sound. She serves as Co-Director of Computer Music and is a core faculty member of cDACT, the consortium for digital art, culture and technology.
Scott Wilson is a Senior Lecturer in Composition and Live Electroacoustic Music at the University of Birmingham. Primarily a composer, his works have been presented internationally, and include compositions for both instrumental and electroacoustic forces, as well as multimedia pieces. He has been active in the development of software for use with Birmingham ElectroAcoustic Sound Theatre, the Music Department's loudspeaker orchestra, and in developing new approaches for large-scale multichannel electroacoustic composition.
Enjoyed reading this article? Share it today:
Find more articles like this:
Find more articles like this: